Razor Light Bar
Sleek. Streamlined. Powerful. Introducing Razor - The World's FIRST flush-mount light bar. Razor was carefully designed to be easily integrated into most existing hardtop, arch, and pilothouse designs – typically with only minor modification to production tooling. When mounted facing forward, Razor's long-throw and high position are invaluable for spotting markers and obstructions. When positioned downward and aft, Razor floods cockpits, gunwales and surrounding areas with more than 10,000 night-piercing lumens.
In addition to clean lines and a low profile, following Lumitec's thermally-vetted reference designs allows OEMs to avoid the overheating and subsequent damage to hardtops that can be caused by enclosing other manufacturer's light bars in a 'pod'. Razor is also available in a surface-mount configuration, which mounts directly to un-modified hardtop surfaces and allows for an equally clean look and similar thermal performance. Available with a white or black housing and two beam patterns (spot or flood) to ensure the light goes where you need it most.
COLOR OUTPUT:White
LUMENS:10,000+ TRUE measured lumens
VOLTAGE:10-30vDC
12VDC:9A
24VDC:4.2A
CCT:5000
CRI:70+
DIMENSIONS:18" W X 1.5" H X 3.5" D
BEAM PATTERN:Spot or Flood
PLI:Yes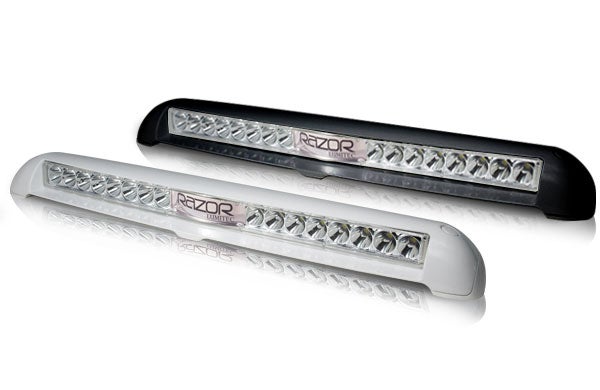 ---
Die-Cast Aluminum Housing
Razor is constructed from powder-coated die-cast aluminum for optimal thermal performance and reliability in extreme marine environments. Completely water sealed and IP67 compliant for years of trouble-free operation.
Sleek Low Profile Design
A cleaner, more streamlined look with a profile up to 80% smaller than most other light bars on the market. Razor will simply drop into an as-molded recess (CAD models available upon request) or can be surface mounted for an equally sleek look.
Advanced Thermal Management
Razor has been designed with advanced thermal management. This means that Razor delivers maximum performance while protecting hardtops and pods from dangerously high temperatures.
---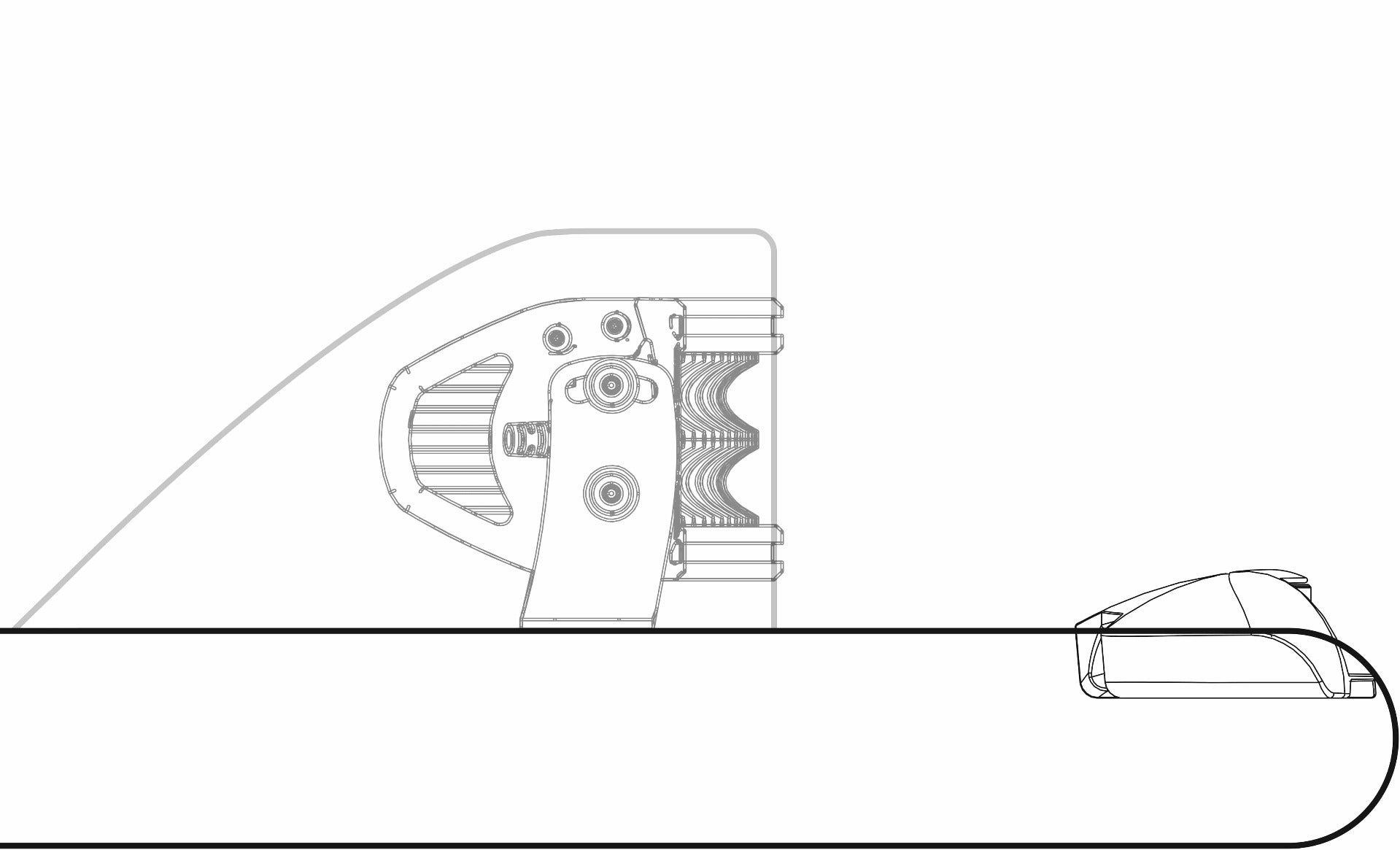 80% Lower Profile than most other light bars
Razor's integrated design delivers more power with a cleaner, more streamlined look. Up to 80% more streamlined in fact. Razor allows builders to eliminate light pods which must be molded and added separately, saving many hours of costly finishing labor. Razor simply drops into an as-molded recess or can be surfaced mounted with the supplied mounting brackets. CAD models of mold plugs or tooling inserts may be provided upon request.
Razor Configuration Options
Razor is designed to be stackable with three options available, providing up to 30.000 lumens of combined output. The curved housing design allows the stacked Razor's to compliment the contours of most hardtop designs while maintaining a sleek low profile. Adding extra Razor Light Bars will increase overall output, intensity and viewable distance for improved visibility.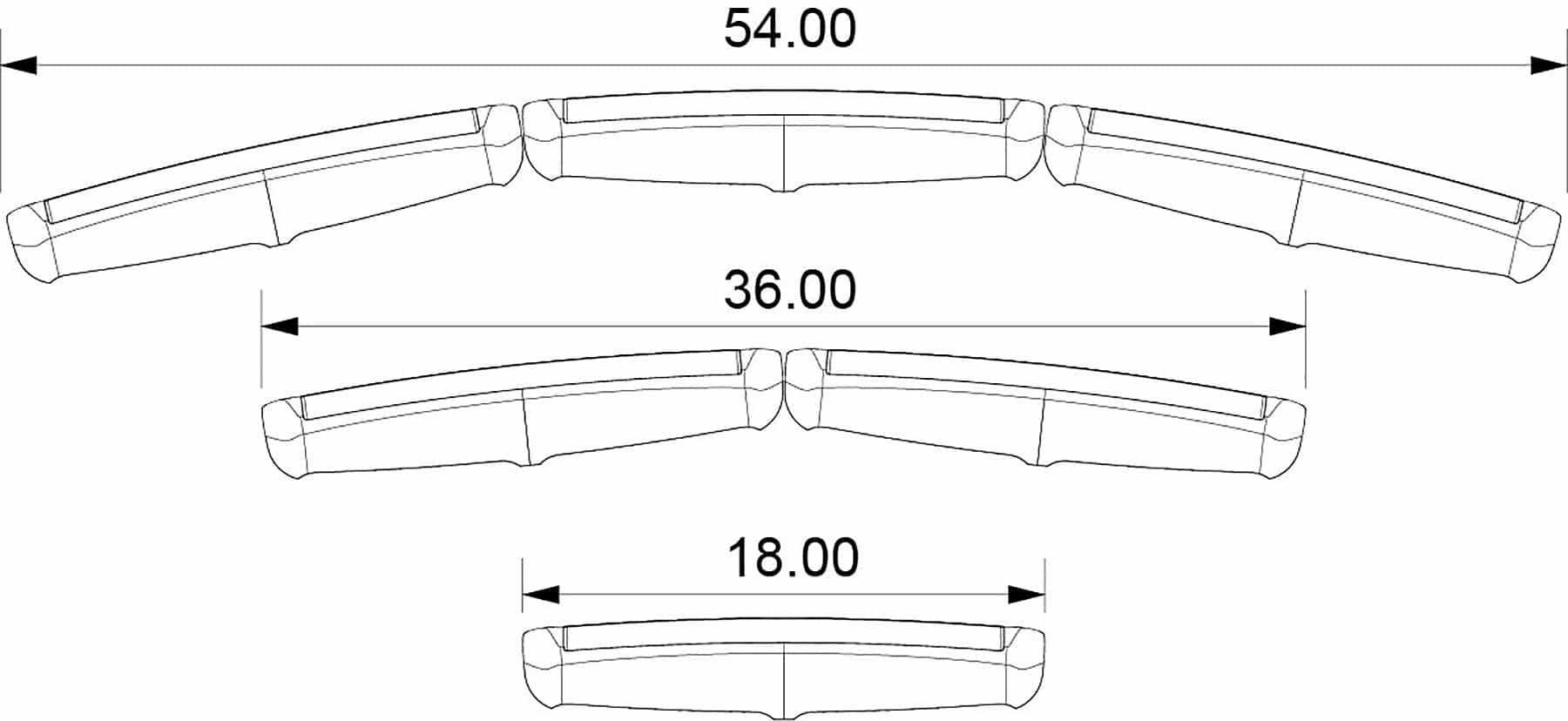 | The World's First Flush-Mount Light Bar Designed For Marine Applications |
Where to Buy
Lumitec does not sell directly to the public. If you are an end-user and wish to purchase the all-new Razor Light Bar please use the link below to find a dealer near you.
Company Sales
If you are a company representative and wish to find out more about the Razor Light Bar availability please contact our sales department for additional information.